Project – Budget Ibiza
So we've been really busy lately and this one has slipped by without much attention. Well it's time to introduce Project – Budget Ibiza.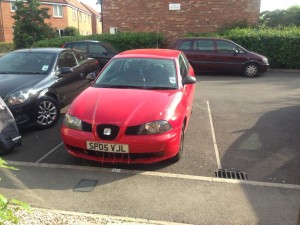 It's a Seat Ibiza 1.2 12v. We've just been running it around for the last couple of months. When we first got it there was a nasty leek from the water pump. So that got swapped out the next day along with a full service and that's it, it's just been driven every day. The little Ibiza has covered about 3,000 miles in the last couple of months.
The front bumper is held together with pink cable ties, the back bumper is cracked, there's rust in the wing, the hub caps are missing, scratches on the other wing and one of the head lights.
When it comes to looks their's not much nice about this car.  BUT that's going to change, over the next couple of weeks we'll be giving this little Ibiza a new lease of life with a face lift, some new wheels and a fresh coat of dip.